2021011, The ZB-487 well of Iraq Zubai oil area drilled by the Rig 27 was officially completed, 9 days earlier than the original design time, breaking the fastest construction record of Zubai oilfield again, and was highly praised by Halliburton, Party A.
20210120, ZPEC was awarded the second batch of "Private Enterprise Headquarters" and attended the ceremony as a representative of the headquarters of 34 private enterprises in Pudong New Area.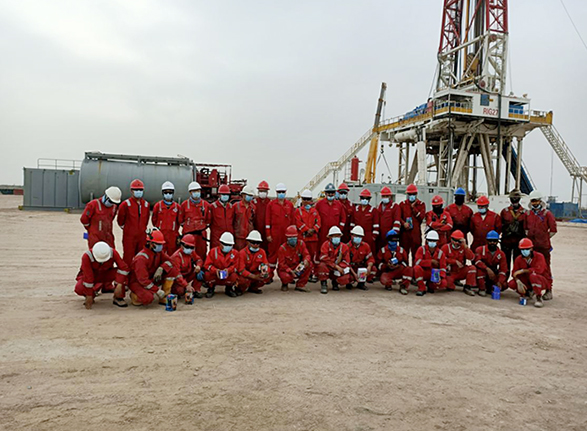 20201106, Zhongman Mahu Project Department and Rig 11 were awarded as "Outstanding Contribution Unit in 2020" and "Outstanding Contribution Award for Speed Improvement and Efficiency Improvement" by Party A, West Drilling Karamay Drilling Company respectively, becoming the only private enterprises among the participating units of Mahu Oilfield to win this award.
20201121, Rig 7, Oilfield Company awarded it "Mahu Oilfield Outstanding Contribution Award" for encouragement.
The excellent performance of the Yan'an Drilling project has been highly evaluated and affirmed by Party A and the local government.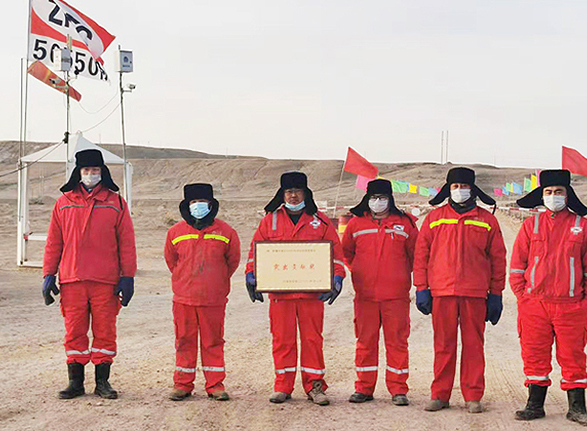 20190101, Zhongman SIBA Project, the operator Kuwait Energy (KEIL) and Party A Schlumberger (Schlumberger) supervision jointly awarded collective certificates of honor to Team Rig 23
20190912, Zhongman Equipment Group Kunlun Company was officially awarded "Academician (Expert) Innovation Workstation" by Chengdu Association for Science and Technology, Organization Department of Municipal Party Committee, Municipal Economic and Information Technology Bureau, Municipal Science and Technology Bureau, Municipal Human Resources and Social Security Bureau and Municipal Federation of Industry and Commerce
20191026, Mahu Project Department of Xinjiang Oilfield awarded MEDALS and letters of commendation to Zhongman Team 7 and Zhongman Team 36
20191229, Rig 25 of Zhongman Petronas Project was awarded by Petronas Garraf Oilfield of Party A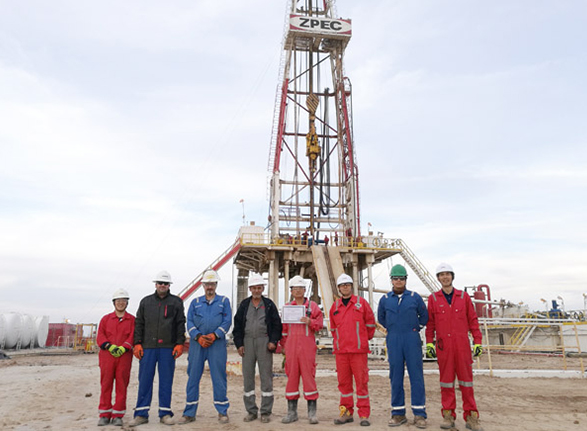 20180415, Dmitry Korothkikh, drilling safety director of Gazprom project, made a special trip to the base and awarded special rewards to Zhu Deyi, safety superintendent of Gazprom project, on behalf of Gazprom project Project Department
20180527 Representatives of Zhongman Egypt Company participated in the Ramadan charity activity held by the Chinese Chamber of Commerce of the Chinese Embassy of Egypt and the Egyptian Common Development Association of the Chinese Embassy in Egypt
20180531, Party A Yanchang No.1 Petroleum and Gas Mining Plant awarded the honorary title of Ace Drilling Rig of Rig 12 and awarded a banner to commend the working style of Rig 12 to challenge difficulties.
20180605, the completion of well P01 of Zhongman Completion Division was commended by Party A.。
20180812, Ali Mohamed of Majnoon Oil Field, Iraq made a special trip to Rig 29 to award the certificate to Rig 29 Security Officer Song Erhui on behalf of the safety department of the oil field
20180908, Lv Biwen, safety officer of Rig 23, was awarded by Drain Pinchok, drilling director of Kuwait Energy SIBA Project
20180916, Zheng Hongdi, the Rig leader of Man 22 Rig in the SIBA project, was awarded by Party A
20180923, East Baghdad Project MdOC has commended its outstanding performance in recent years, praising it as the best cementing team he has ever seen.
20180923, Frederic Caillat, Project Manager of Schlumberger IDS Region of Party A commissioned Sergeo Comarin to issue a commendation letter to Rig 23
20180928, Wang Zhiqin, the internship safety officer of SIBA Project Rig 22, was commended by Party A
20181120, Kuwait Energy (KEC) SIBA Drilling Supervision Saad Hassen issued certificates to Li Peishui, manager and leader of Rig 23, safety officer Wang Zhiqin, honoring all the workers of Rig 23 in the SIBA project
20181206, Zhongman 29 Rig safety officer Song Erhui won Party A award again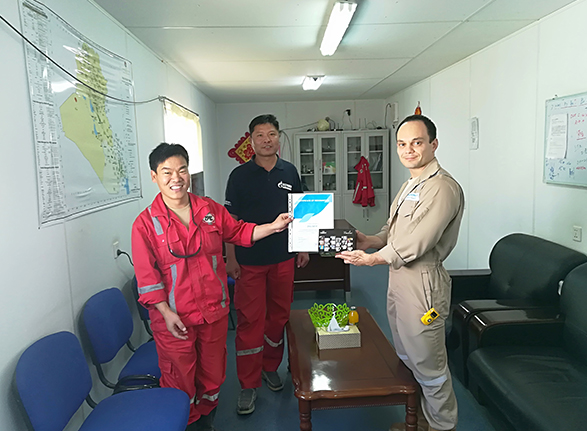 20170111, MDOC letter of thanks to Gazprom Project (Arabic)
20170111 MDOC letter of thanks to Gazprom Project (English)
20170115, MDOC Letter of thanks from Party A
In 20170517, the Rig 16 Gazprom project had more than 1000 days and was commended by Party A
In 20170827, Rig 263-year period was awarded by Party A
In 20171203, Shi Siyuan, the drilling fluid engineer of Gazprom project, was awarded by Party A
20160625, Party A Gazprom commended the high-quality and efficient completion of P07 in the Phase II contract and three wells in the previous Phase 1 contract
20160629, Chen Xiaorong, manager of Zhongman Rig 26, was commended by Gazprom Party A for his outstanding safety management
20160702, Party A Gazprom commended 11 employees of Zhongman Rig 19
20161007, In the "Safety and Green Camp" competition organized by Gazprom Party A and participated by ten contractors, ZPEC Barbara project won the champion title
20161119, due to excellent standardized management, Rig 20 was awarded by Party A in Party A Gazprom's Safety Week
20161217, the Rig 19 was awarded a grand award by Gazprom Party A for successfully holding a comprehensive safety drill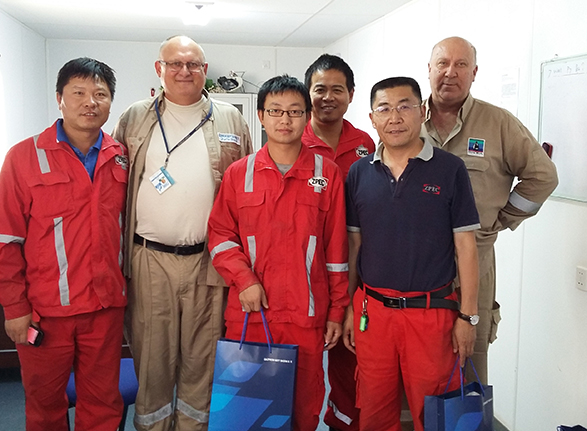 20150222, Rig 22 set a 1,000-day safe production record and received the Luk and Baker awards
20150511, Peter, safety director of Gazprom Party A, on behalf of Gazprom, commended the safety of Rig 20 without accident throughout the year
20150521, ZPEC Petronas Project was awarded the "Honorary Certificate of 500,000 Manhours Safety Production" by Party A
20150728, Deputy Minister of Oil Ministry Fiadh Al Naama, accompanied by Sergei Karavaev, president of Gazprom Overseas project, and local government officials, visited the Rig 26 well site and appreciated the achievements of Gazprom and ZPEC in the Badra oil field
20150915, Zhang Shouliang was awarded a special award from Baker Party A
20151202, the 1000HP trucked rig with independent suspension developed by Zhongman Kunlun Company won the Science and Technology Progress Award awarded by Chengdu Municipal Government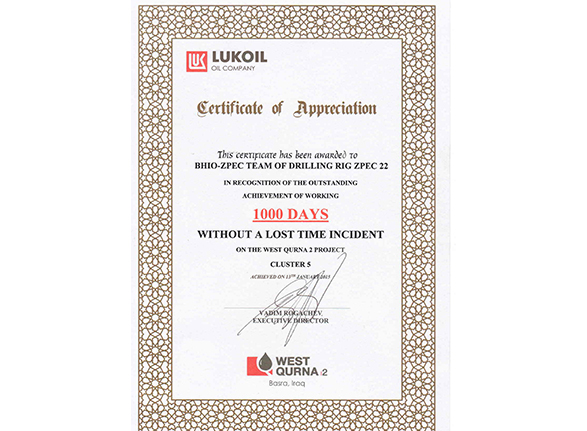 20140522, Rig 23 refreshed 8 drilling indicators in the construction of well WQ2-197, and won the best drilling Rig in West Querna Oilfield
20141010, Waley, on-site drilling superintendent of Party A of Gazprom Project, gave awards to driller Sui Jianbo, an excellent performance of Zhongman Rig 26 in the construction of well P-08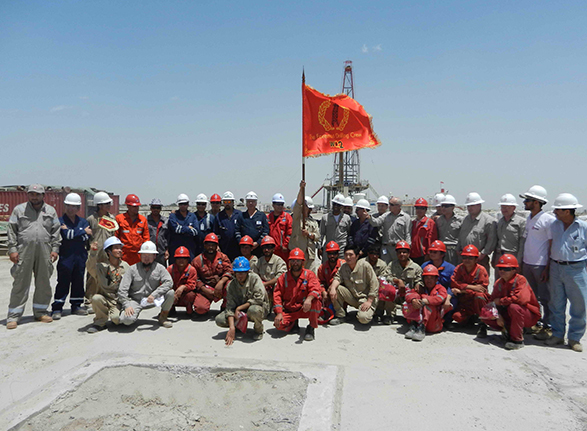 20130323, Wu Hongqun, driller of the Rig 22, was awarded the certificate of "Excellent Safety Officer" by the Baker Hughes Iraq Project Manager
20130328, Baker Hughes Iraq Project HSE superintendent Mr. HAMEED came to Rig 23 to present certificates of honor and prizes to best STOP card employees Assad and Li Chunle
20130328, Baker Hughes Iraq Project HSE superintendent Mr. HAMEED came to Rig 23 to present certificates of honor and prizes to best STOP card employees Assad and Li Chunle 2
20130522, Luk Oil Company awarded the banner of "The Foremost Drilling Crew" (First-class drilling Rig of West Querna Oil Field) at well Site 7 on behalf of Party A, and awarded prizes and souvenirs on the spot
20130613, ZPEC won the import and export list certificate issued by Shanghai Association of Import and Export Commerce
20131020, RADOANE, safety superintendent of Luk Oil of Party A, sent a letter of thanks to the achievements of Rig 25 since its drill operation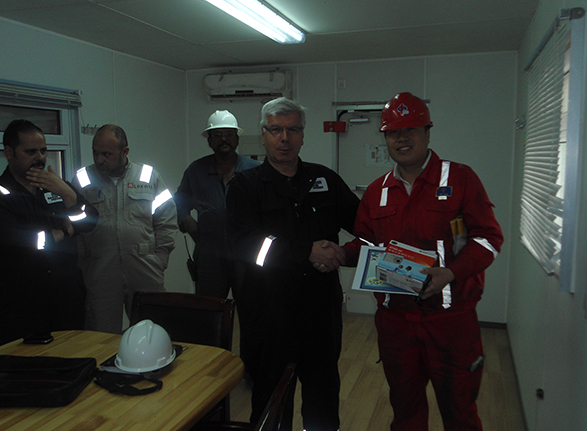 20120315, well F4 of Yada project constructed by Zhongman Rig 20 won the first prize of SINOPEC in 2011
20120316, Party A of SINOPEC International Petroleum Exploration and Development Co., Ltd. fully affirmed the strength of Zhongman Rig 19
20120628, Gan-Shaanxi Headquarters of North China Petroleum Bureau of SINOPEC commended the HH37P60 well constructed by Zhongman Rig 14 and won the "Well Construction Cycle Award" and 210,800 yuan awarded by Party A
20120704, Zhongman Rig 15 was rated as a drilling Rig by Gansu-Shaanxi Petroleum Battle Headquarters of North China Branch of SINOPEC, and became the first construction Rig to obtain the qualification in Party A's working area in 2012
20120709, in the June safety evaluation organized by Party A Baker Hughes Company, Lei Guirong, a mud worker from Rig 22 of ZPEC Iraq Project, was awarded the monthly employee: "SAFETY OF THE MONTH" and awarded $100
20121008, Zhongman Drilling was rated as the cooperative unit of "Emphasizing Contract and Keeping Faith" by the Seventh Oil Production Plant of Changqing Oilfield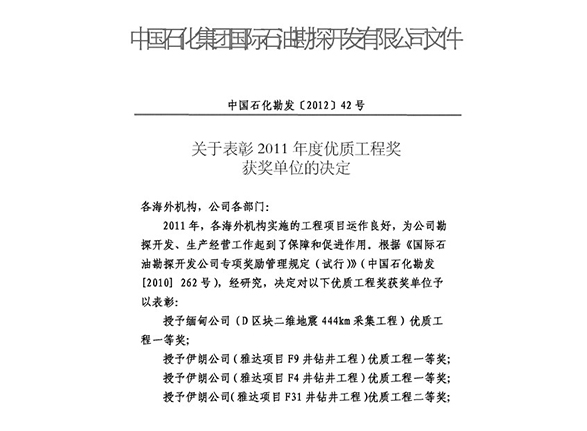 201102, the drilling company was awarded the "Outstanding Contribution Unit to the Production Capacity Construction of the Seventh Oil Production Plant in 2010"
201111, Zhongman Rig 5 and Rig 17 were awarded by Party A in Changqing Oilfield 1
201111, Zhongman Rig 5 and Rig 17 were awarded by Party A in Changqing Oilfield 2