Offline Drilling Rig
Offline Rig is an intelligent drilling rig, independently researched and developed by ZPEC. The rig adopts high efficient pipe handling system. Through SDOS smart drilling operation system, it can realize the parallel operation of drilling and off-line pipe handling. It combines the mechanical, electrical, hydraulic, and air control technology so as to maximize the integral drilling efficiency and reduce NPT time. The rig is equipped with wheel type trailing system, which is applicable on flat deserts and Gobi. It has less transportation units which is convenient for moving.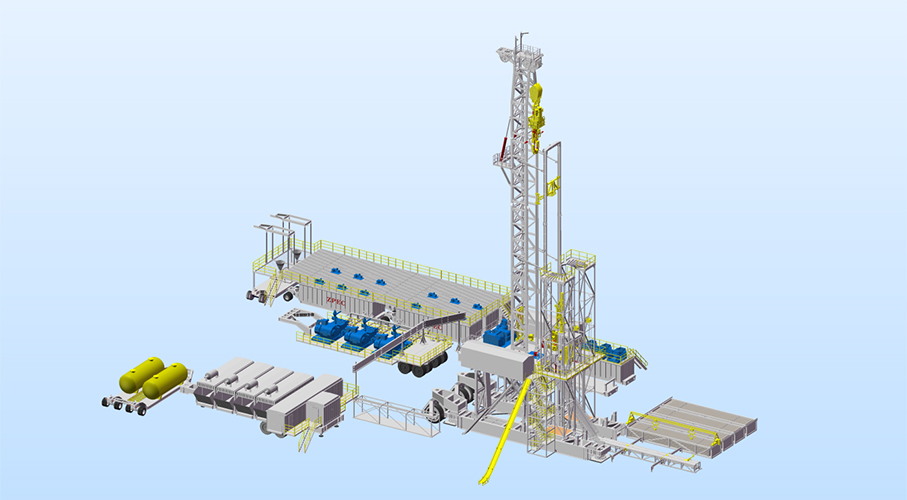 Technical Features
· Drilling operations and stand connection operations are independent with each other, and the off-line stand connection mode is used outside the wellhead.
· Adopt SDOS (Smart Drilling Operating System) system, six automatic procedure, efficiency is more than 600m/h, equipped with ZMS management system.
· Maximum handling pipe size is 10'' drill collar.(API R2 dual string)
· The substructure and the mast adopt modular design and are lifted by hydraulic cylinders, which are applicable for installing 500-ton top drives.
· The mast has no monkey board and the drill floor has no setback box. The center of gravity of the drilling rig is significantly lowered, and the ability of the drilling rig to resist overturning is greatly improved;
· Zero discharge is applicable for HSE requirement.
· Modular design. It can be equipped with walking moving device and wheeled fast-moving device, meeting the requirements of 360° directional cluster well operation in the well site and solid moving between well sites.
· The power unit, pump unit, and solid control tanks all adopt wheeled trailer structure to meet the requirements of solid fast moving.
· The mud pumps adopt direct drive technology. The equipment is light and compact, with few failure points and easy for maintenance.
Successful case: ZMOR 350 Offline Drilling Rig
Main Technical specificaions
Nominal drilling depth m

4000(4 1/2" DP)

3650(5" DP)

Max. hook load KN

3500

Hook speed m/s

0.45~1.63

Wirelines of travelling system

12

Dia. Of Drilling wirelines mm

35

Drawworks power HP

1500, stepless regulation

Height of drill floor m

10.5

Effective height of mast m

35

Opening of rotary table

952.5

Power of mud pump (single set) HP

1600

Transmission type

AC-VFD-AC